Just when marketers had finally figured out the best ways to utilize Page Tabs on Facebook business pages, along comes Facebook to throw a monkey wrench into things. As of March 30, 2012, all Facebook fan pages were converted to the new Timeline look – like it or not. Until then, page owners could preview the new look and figure out all they need to do in order to take full advantage of the new features.
At the same time, Business Page admins have had to accept the loss of things like the beloved Default Landing Tab which many marketers had used as a Facebook "home page" showing an overview of the company or organization and encouraging users to Like the page while there.
Here are the main elements to consider with Timeline-based Facebook Business Pages: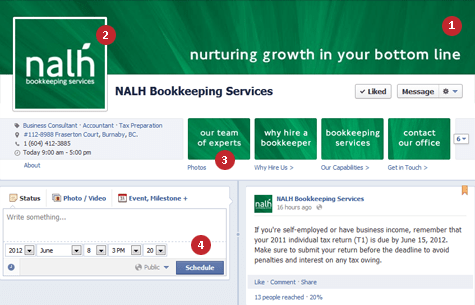 1. Cover Image (851 x 315)
This is the most important image on your page. It should say, at a glance, what your company is all about. Get creative and do something unique.
2. Profile Picture (180 x 180 – scaled to 160×160)
A smaller version of this image shows up as a thumbnail throughout the site, so make it stand out! Generally, dark backgrounds work better for this purpose.
3. Custom Tab App Icons (111 x 74)
These graphics can be customized to replace the default icons for your Page Tabs. They should be designed to integrate with the overall aesthetic of your page.
4. Schedule Post
This is a relatively new feature for Facebook page administrators. You can now schedule your posts for a date and time in the future. No more giving yourself away as a night owl by posting at 2:ooam!
The Bottom Line
Overall, Timeline pages are much more visually-oriented than the previous version of Facebook Business Pages. While they're less flexible in certain ways, they also offer more ways to highlight content such as creating a Milestone which offers a huge 843 pixels-wide image or pinning a post to the top of the page which stays in place for 7 days.
How are you using the Facebook Timeline format to your advantage? Share your creative implementations in the comments.